Last week Austin, Jackson, Russ, Jenny, Lucy and me headed up to my happy place ……… WHISTLER!!!!!!!!!!!!!
We loaded up everything the last day of July headed up towards Vancouver Washington to visit jenny's grandparents and drop her and Lucy off. We were very bored sitting around inside playing pool at there house so Austin, Jackson and me decided to take a joyride around town and try to find some sweet stuff to ride somehow we ended up seeing a car crash where both the cars were on there backs and all the emergency people were there it was kinda ironic because I'm in drivers ed right now so yeaaaahhhhhhhh?!?!?!?!?!?!?!? Anyway we found a bunch of fun spots to ride around there we found this one mulch pile and we were throwing some stezzy whips off of it.
Afterwards we went back watched the Olympics for awhile and went to bed. We woke up the next day around 5am and left for whistler.
Now that Jenny and Lucy were gone I could finally actually have fun 🙂
So on the way up there we were being super rowdy and getting stoked for whistler so to cool of the jets we stopped at the cannon dale bike park which was amazing. Cannon dale is this huge bike park with everything you can imagine and its all under I-5. After that we were off to whistler. We got through the border with no problems only took about 15 minutes ounce we got into Canada everything was metric so that was a change. On the way through Vancouver we were eyeballing chicks like crazy since we were in a foreign country. We got to whistler at about 4 after we got all our tickets and got situated we went and rode the dirt jumps skate park and pump track which were unbelievably fun.
creek jump
Later that night we were unbelievably rowdy hooting and hollering at people going crazy so to wear that off we went into the sauna………………………………………. I swear I probably burned a gallon of sweat. After the sauna we all watched the Olympics again and went to bed.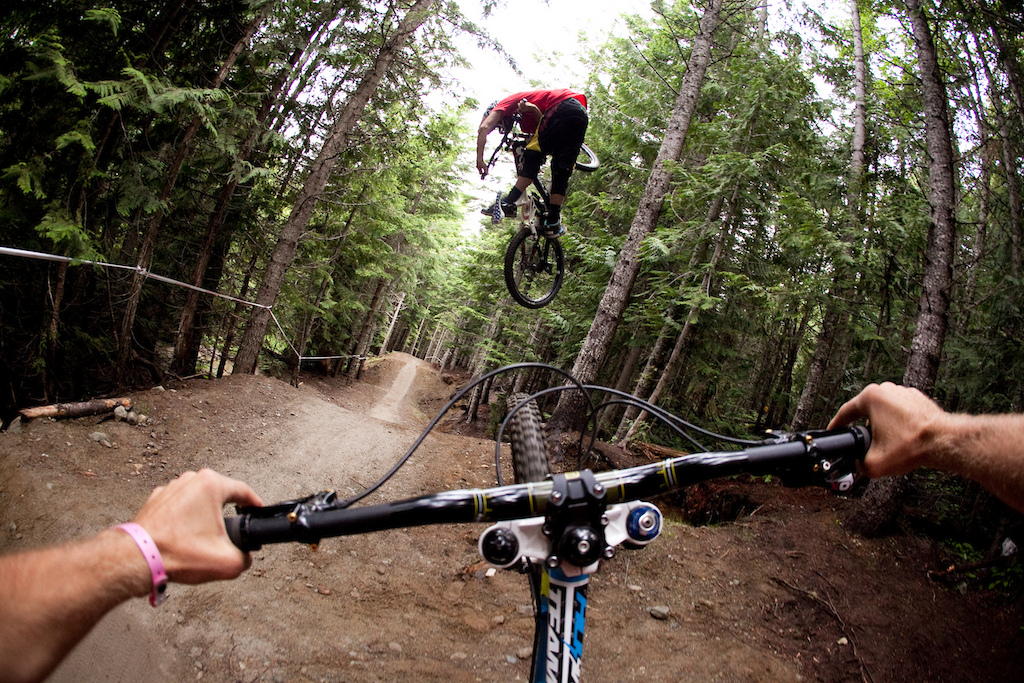 A-line
The next day was our first day riding the mountain after some well needed maintenance we headed up the lift. Our first trail we rode was crank it up which is basically the warm up trail……
It was Jackson's first time ever riding whistler so he was super stoked. Later that day we also rode dirt merchant blue and black velvet schlyer a- line b- line and more the 2nd day was basically a repeat besides that we rode the top of the world trail which is up by the glaciers and has a 100 ft drop next to you the whole time you are riding the trail …… The trail in all was 5 kilometers long.
joyride
The second day we also rode the air dome and got to watch a lot of pros ride. The air dome is basically a big building with tons of wooden ramps and a foam pit. We were all doing big transfers and having fun untill Jackson went up the roll in and fell backwards down 10 ft to flat but he was all right.
The next day was our last day of riding our goal was to hit almost all the double black trails which we did. Our favorite jump overall was the creek jump because the length and consequences for failure are favorite trails were dirt merchant in deep and joyride.
In Deep
While we were there we also checked out all the crankworx stuff which was stupidly big and also very exciting to look at (so stoked for crankworx)….. On the way back we stopped by the lumberyard and more…….
So yeah that is pretty much it. There's still more pics and videos to post but i will do those on individual reports of each day and location we went on our trip.
– Cheers Collin